Giveaway: A Beauty giftbag from ABC's new show GCB!
In honor of the premiere of ABC's new show, GCB on Sunday March 4th at 10/9c on ABC, they are giving away a wonderful basket of beauty goodies to the lucky winner of this contest.

This show looks fun, evil, exciting, gossipy, all the things we love to see on our favorite programs. This show definitely is right up my alley! It stars Leslie Bibb, Kristin Chenoweth, Annie Potts, Jennifer Aspen, and Miriam Shor. Kristin Chenoweth is hilarious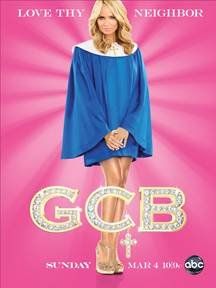 Here are the show details from ABC:
Twenty years ago, Amanda Vaughn was the queen bee of Dallas, Texas. Now she's back, and it's payback for being an original mean girl. Will the good women of her hometown welcome her with open arms, or preach the golden rule while stabbing her in the back? Everythings bigger in Texas...even the drama


GCB
is a deliciously fun, wicked new drama that shows that you can go home again... but only if you're ready to face the sins of your past.
Amanda Vaughn (Leslie Bibb), once the ultimate high school "mean girl," is forced to return home in disgrace after her marriage ends in scandal. Reluctant but desperate, Amanda has no choice but to turn to her mother, Gigi (Annie Potts), for help. Gigi, the quintessential proper Dallas socialite, wants nothing more than to have Amanda back and to give Amanda's two teenage kids a good southern upbringing. The problem is that Amanda is nothing like the girl she was 20 years ago and is hesitant about re-entering this world of opulence, status and salacious rumor mills. She is hopeful for a new start, but soon finds it's not that easy to escape your past in this tightknit community.
I can't wait to watch the premiere.
The women of Dallas are none too happy to see Amanda back in town. Carlene Cockburn (Kristin Chenoweth), once the ugly duckling, was tortured by Amanda in high school but has made quite the "assisted" transformation since. Now she has a picture-perfect, lavish life with a gorgeous husband, yet she still can't seem to let go of old grudges. Then there's Cricket Caruth-Reilly (Miriam Shor) whose boyfriend Amanda stole and later married. Cricket is now a tough-as-nails, successful businesswoman with a perfect marriage – at least so it appears from the outside. Sharon Peacham (Jennifer Aspen), the fallen beauty queen whose chance at the Miss Teen Dallas crown was snatched away by a malicious rumor Amanda started, hasn't really been the same since. Finally, there's Heather Cruz (Marisol Nichols), a bit of an outsider back in high school who has now become fully inducted into this twisted little social clique of affluent, sugary, God-fearing, steely women whose bark is as bad as their bite.
As for the giveaway,
One winner will win the GCB Gift Bag which includes the following: